Pizza Trails Catering
Hire us to cater your next event! Great for birthdays, graduations, retirements, showers, rehearsals, or just a backyard bash!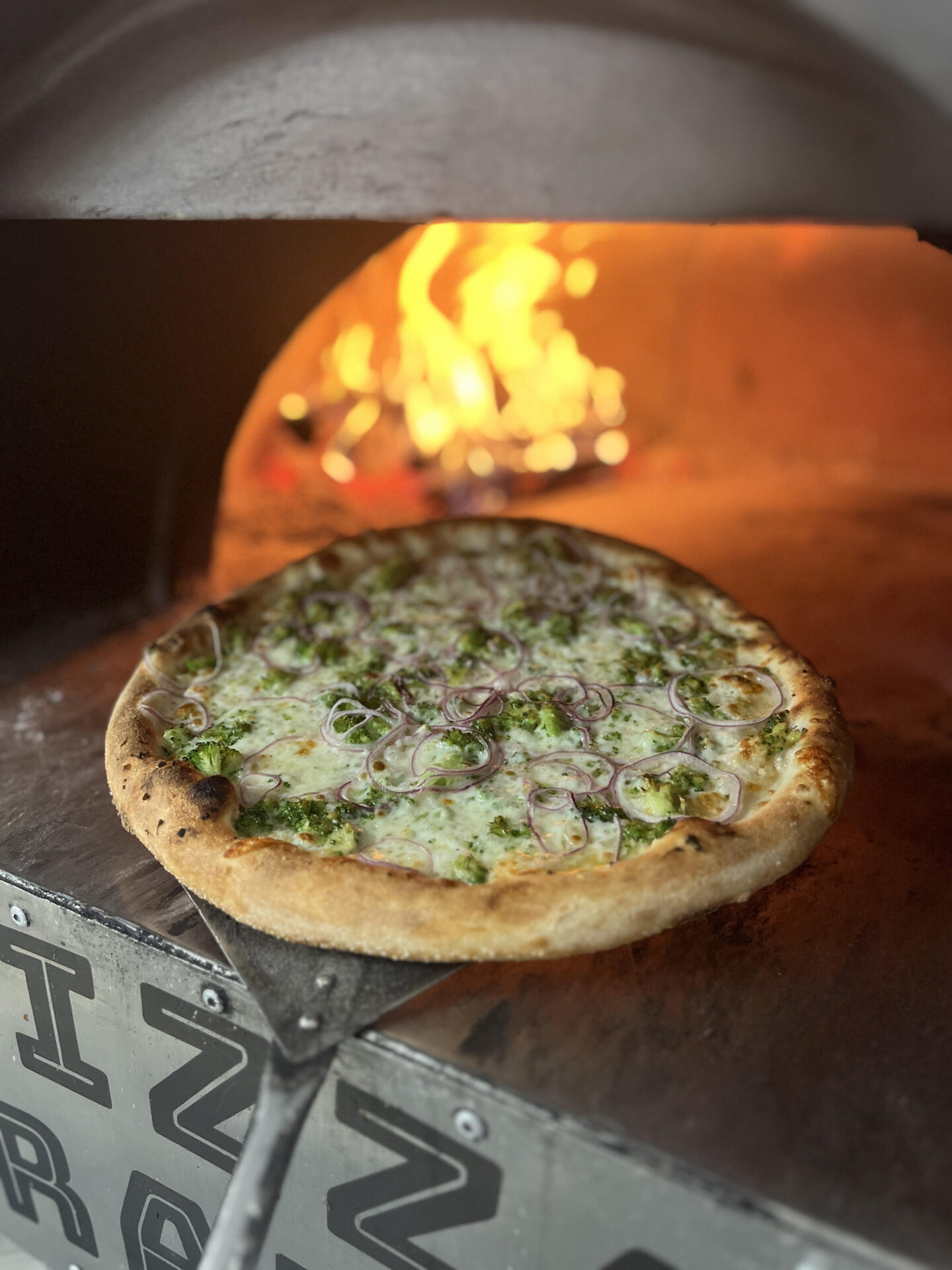 $12 Per Person for wood-fired pizza served buffet style. The pizza size is around 14″. Choose from an array of classic and specialty pizza styles for your event. Choose from 3 styles in total. Make it 6 total styles for an additional flat fee of $300.
Pizza serving time is typically 2-3 hours depending on the type of event. Please allow time for us to set up and break down which is an additional 2-3 hours total.
Subject to a travel fee for drive time over 30 minutes from our home base in Schodack.
$150 Service Fee and 20% Gratuity of the total added to all catered gigs. Subject to NYS sales tax as well.
The minimum party cost is $1,000. This means that based on your choices (pizza, apps, salads, beverages, photo booth) the total amount due is $1,000 or greater. The benefit is a smaller party of 25-35 people could still meet this threshold based on choices.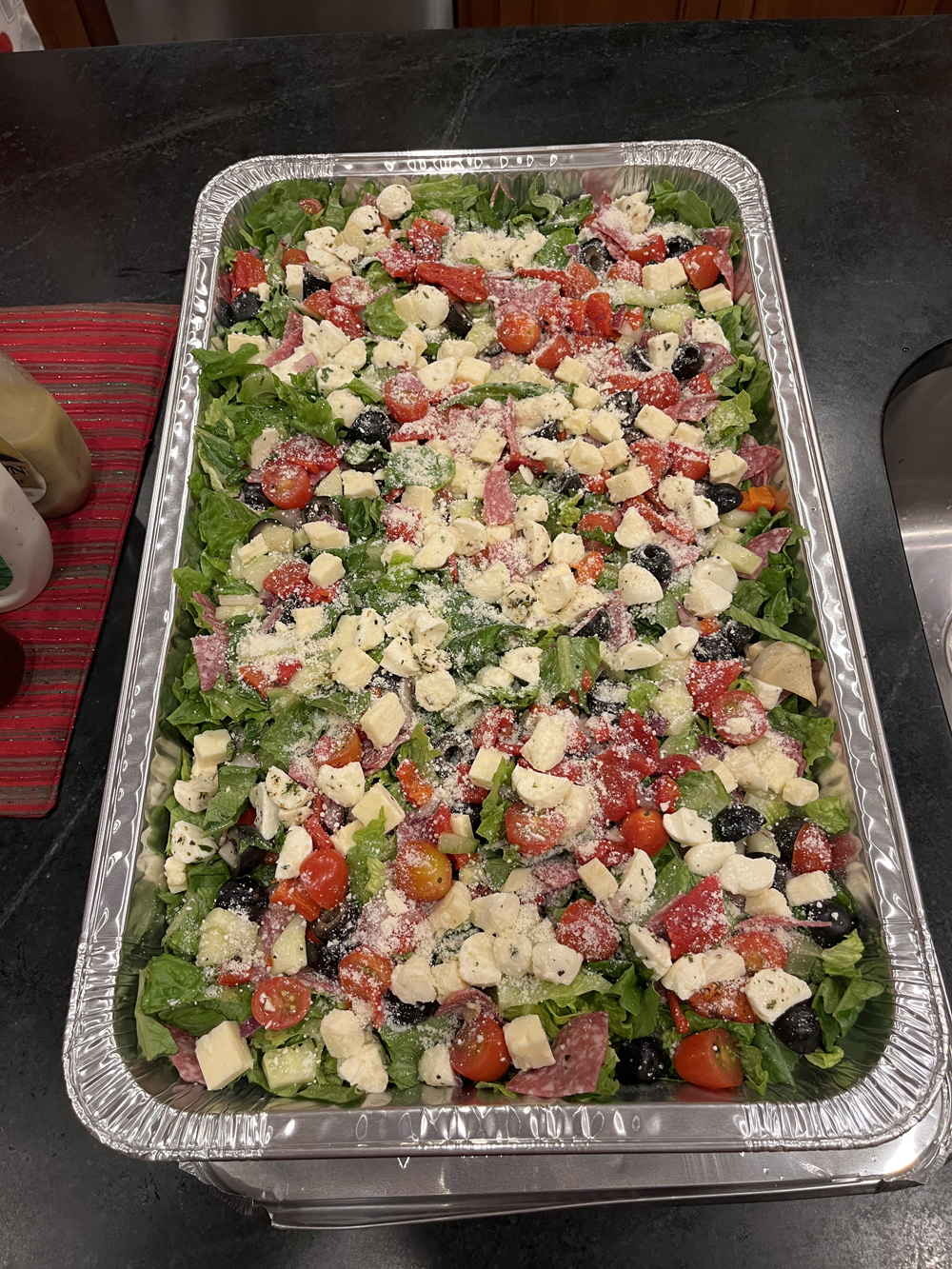 All Salads and Appetizers are flat rate based and served in full pans which feed 25-30 guests. All salads and appetizer add ons are optional.
Garden Salad: A classic garden salad using mixed greens, tomatoes, onions, cucumbers, and black olives with a hint of parmesan and spices. $65
Antipasto Salad: The Italian classic using mixed greens, vegetables, and fresh deli meats sliced by us which includes; Capicola ham, deli pepperoni, and genoa salami. We use fresh chunks of mozzarella cheese and add sweet peppers and red roasted peppers. $125
Ceasar Salad: Romain lettuce, with romano cheese and croutons premixed lightly with Cesar dressing with additional bottles of dressing for guests to add to their linking. $80
Appetizers (feeds 25-30 ppl)
Arancini: An Italian classic, arancini, also known as stuffed rice balls, are cocktail-sized balls stuffed with cheese and risotto served with our homemade marinara sauce. $150
Boneless Chicken Wings: Our boneless wings are top notch featuring 100% white meat chicken. These wings are tender and juicy and you can choose to have them plain, mild, hot, or garlic parm. Served with sides of sauce and blue cheese for your guests. $125
Meatballs in Marinara: Enjoy these Italian meatballs in a cocktail size. Authentic Italian meatballs made with veal, pork and beef. Served with our homemade marinara sauce. $150
Chocolate Chip Cookies: 3 oz oversized double chocolate chip cookies, baked by us, your guests will enjoy a tray of 50 cookies. $75
Raspberry Lemon Drop Cake: Decidant personal sized cakes feature layers of yellow cake, lemon goodness, whipped cream and a drop of raspberry on top. OK, so you could probably share it with one other person but you may regret it. 25 cakes. $125?
Bar Service includes a dedicated Pizza Trails employee serving drinks at the beverage station.Kegs and Bottled Beer/Aluminum Bottles/Cans available. 
Price varies based on choices: $16 – $20 per person.
One-Half Keg pours 150 12 oz cups. Choose one keg of beer or two-quarter kegs to offer two choices of beer. Price varies based on choice (domestic beers cost less $16 per)
Red and White wines are available as part of packaged pricing.
Water and a selection of sodas are included in the pricing.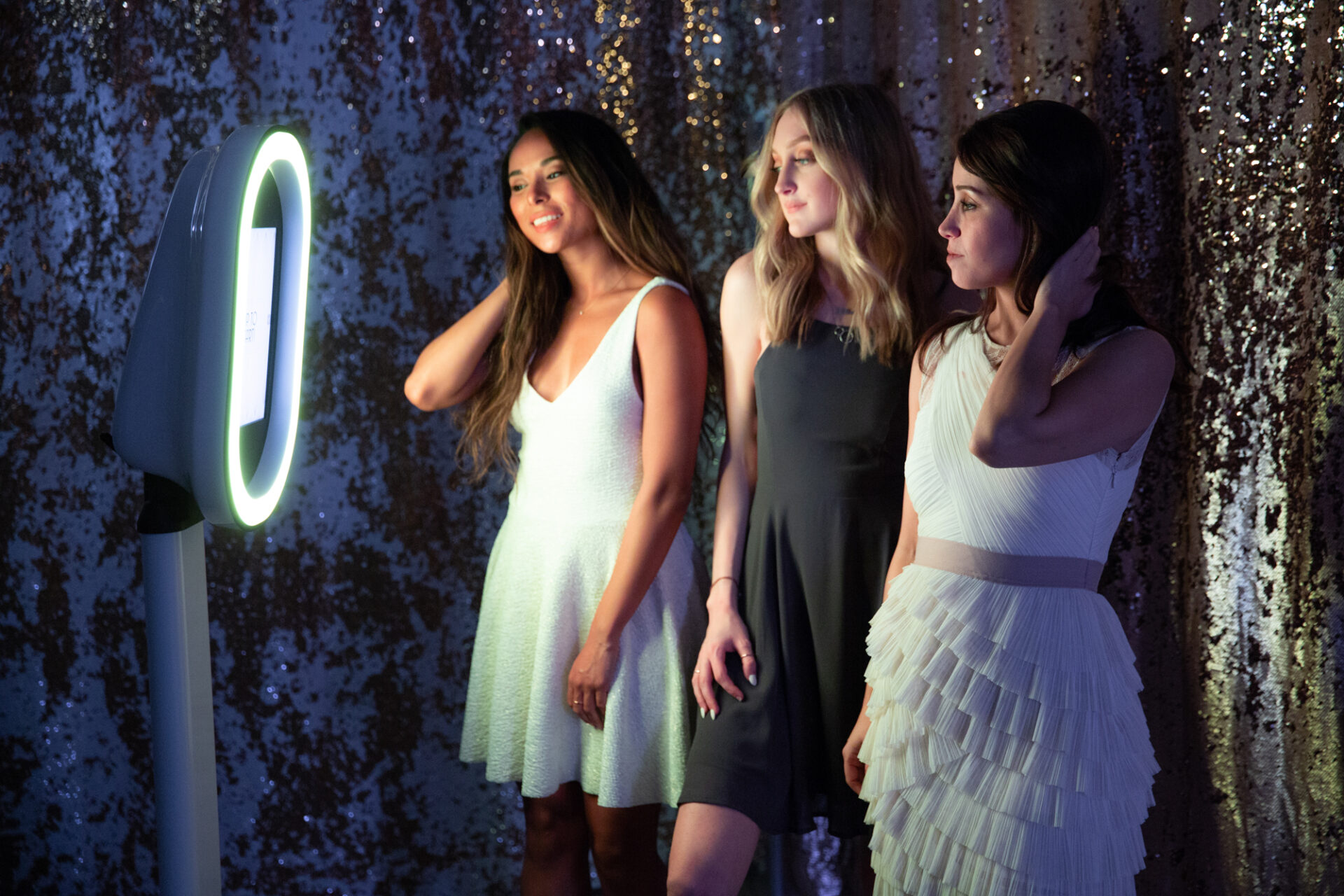 Don't pass on our new photo booth service. Enjoy 3 hours of our sleek fun photobooth for just $500. Includes tons of features including the option of taking stills, gifs, boomerangs and videos! Access to filters, props, and more! Guests can access their own pics in real-time by entering in their personal info and can access all photos in the gallery from the event for printing post-event.
Pizza Trails Catering Menu – CHOOSE 3 TOTAL
Margarita-  Crushed Tomatoes, Fresh Buffalo Mozzarella, Finished with Fresh Basil and Olive Oil. 
Classic Cheese– Classic Marinara Sauce, Fresh Shredded Mozzarella, and Parmesan. 
Pepperoni – Classic Marinara Sauce, Fresh Mozzarella, Crispy Pepperoni 
The Favorite – Roasted Garlic and Olive Oil, Fresh Mozzarella, Topped with Classic Marinara Sauce and Parmesan.
Ryan's Hawaiian– The controversial Hawaiian pizza, except we added Applewood smoked bacon and left out the ham, finished with shaved pineapple.
White Broccoli Tomato – Garlic oil-based, Oven-roasted Sliced Tomatoes, Broccoli, Fresh Mozzarella.
Hot Honey Sausage – Sweet Italian Sausage, Green Peppers, Fresh Mozzarella, and Hot Honey Glaze.
BBQ Chicken- Texas BBQ Sauce, Grilled Chicken, Shredded Gouda, Red Onions
Buffalo Chicken – Buttery buffalo sauce, breaded chicken, and crumbly blue cheese
Meatball Ricotta – Red sauce, fresh mozzarella, homemade meatball topped with ricotta
Chicken Bacon Ranch – Chicken, Bacon, Mozz/Cheddar Blend
The Fig- Prosciutto ham, mozzarella, goat cheese, sliced figs, finished with a balsamic glaze and arugula.