Pizza Trails Catering
Hire us to cater your next event! Great for birthdays, graduations, retirements, showers, rehearsals, or just a backyard bash!
Pizza Trails Catering Service
3 Hours of serving
Please allow an additional 1-2 hours for arrival and set up, 1 hour to break down and exit. 
$15.00 per person.
We like to make sure all the guests are fed and leftovers are possible.
Choose 6 different style pizzas to be continuously replenished over the 3-hour service. 
Pizzas are roughly 10" round
$150 set up fee within 30 miles from Averill Park, NY 12018
$200 for events over 30 miles from Averill Park, NY 12018
Subject to NYS Sales Tax and 20% gratuity
Optional Add Ons:
Salads:
Antipasto: $110 (Serves 25-30 people)
Caesar: $75 (Serves 25 – 30 people)
Includes freshly made Italian bread. Baked by us
$250 deposit required with signed agreement and is non-refundable if canceled within 14 days of the event.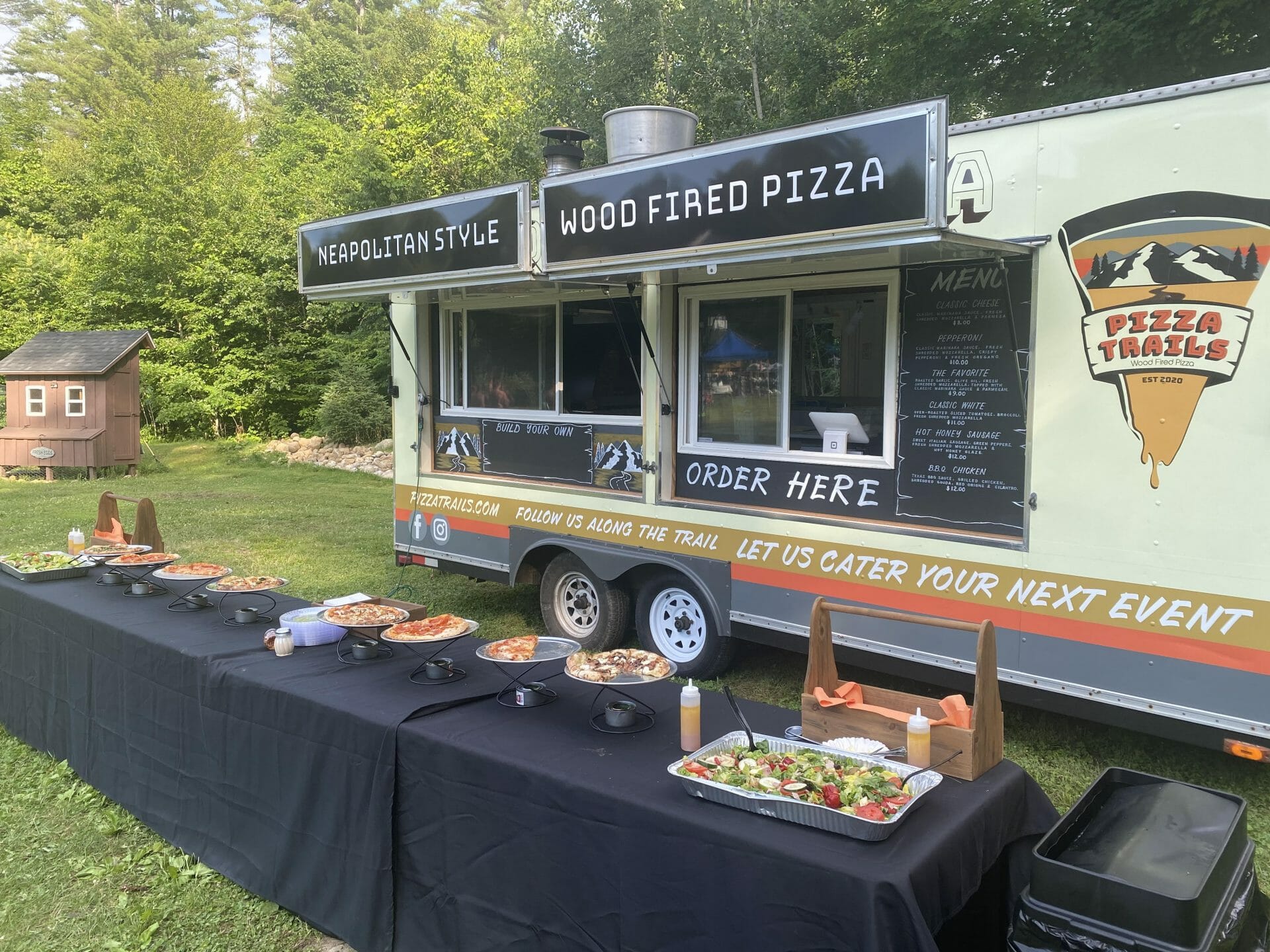 Pizza Trails Catering Menu – CHOOSE 6 TOTAL
Margarita-  Crushed Tomatoes, Fresh Buffalo Mozzarella, Finished with Fresh Basil and Olive Oil. 
Classic Cheese– Classic Marinara Sauce, Fresh Shredded Mozzarella, and Parmesan. 
Pepperoni – Classic Marinara Sauce, Fresh Mozzarella, Crispy Pepperoni 
The Favorite – Roasted Garlic and Olive Oil, Fresh Mozzarella, Topped with Classic Marinara Sauce and Parmesan.
Ryan's Hawaiian– The controversial Hawaiian pizza, except we added Applewood smoked bacon and left out the ham, finished with shaved pineapple.
White Broccoli Tomato – Garlic oil-based, Oven-roasted Sliced Tomatoes, Broccoli, Fresh Mozzarella.
Hot Honey Sausage – Sweet Italian Sausage, Green Peppers, Fresh Mozzarella, and Hot Honey Glaze.
BBQ Chicken- Texas BBQ Sauce, Grilled Chicken, Shredded Gouda, Red Onions
Buffalo Chicken – Buttery buffalo sauce, breaded chicken, and crumbly blue cheese
Meatball Ricotta – Red sauce, fresh mozzarella, homemade meatball topped with ricotta
Chicken Bacon Ranch – Chicken, Bacon, Mozz/Cheddar Blend
The Fig- Prosciutto ham, mozzarella, goat cheese, sliced figs, finished with a balsamic glaze and arugula.